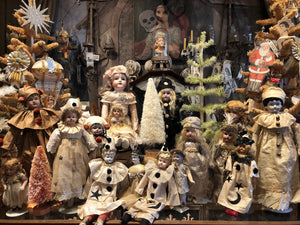 2023 Christmas Pageant Continues
WEBSITE RESTOCKED EVERY SATURDAY AT NOON PST!

OUR GRAND CHRISTMAS PAGEANT CONTINUES EVERY WEEKEND IN PORT COSTA!
We are bringing out new designs and limited-edition creations every Saturday in December.
2023 OPEN HOUSE DATES:
DEC 8-9-10
DEC 15-16-17
DEC 22-23-24
11AM-5PM Each Day

We have invited our favorite local artists to set up at a GIFT MARKET on Sunday December 17th. If you are looking for unique gifts, this is the place to be!
Follow Wendy on Instagram for updates, pictures, and videos.
@thewendyaddison
Theatre of Dreams
11 Canyon Lake Dr
Port Costa, CA 94569
Please email shop@wendyaddisonstudio.com if you have any questions.

Welcome to wendyaddisonstudio.com - the online home of The Theatre of Dreams - a studio and shop in Port Costa, CA where visionary art is translated into inventive gifts and decor, using paper, scissors and glue. Wendy uses a circa 1890 letterpress to print her paper goods, and many of her products are made with antique and vintage materials, including sheet music, tinsel, crepe paper and dresden. All are designed to evoke memories of the past. 
THEATRE OF DREAMS
No. 11 Canyon Lake Dr.
Port Costa, Calif 94569